This is the place to browse and buy your wearable, readable, audible and visually enjoyable treasures. Choose something for yourself and for your friends and family.
All prices are net. For products that require postage, please let us know where you are in the world and your preferred method of postage – regular registered airmail or via courier. You will then be informed of the total cost. On receipt of payment, your treasure will be sent to you.
All the jewellery pieces are produced in small numbers, individually hand crafted and each one is unique. Choosing a piece is a bespoke experience. The photographs below show the designs and the general sizes. The pendants and earrings are set in recycled sterling silver (RSS) or gold plated with 24k gold and an 18k gold flash for colour finishing. (24KGP)
Once you have chosen the design and size, in recycled sterling silver or gold plate, it's time to send me your request. I will select from the current stock and use a pendulum to check which one is in harmony with you. I will send you images and you can then make your final decision. If the style you want is sold out, you may place an order and we will let you know when the next collection is ready.
Selenite is for clarity of mind, expanding ones awareness of the self and ones surroundings. It facilitates connection with your highest potential in a grounded and clear way. Selenite is grounded white light and creates a protective shield when you wear it, repealing negativity in the field.
It soothes the nerves, has a positive effect on the brain, enhances will power and is a good antidote to the imbalances set up by electronic equipment. Selenite strengthens bones and teeth and aligns the spinal column. It is associated with the crown and higher chakras. It is a stone for this age and vibrates to the number 8
Iolite Some pendants have a small Iolite. Iolite helps one to change 'painlessly', the change being towards spiritual growth, with clarity and direction. It balances the male/female aspects of one's character, bringing harmony into relationships, eliminating debts and enhancing personal responsibility. It is a stone for this age and vibrates to the number 7.
Powerful Pendants and Earrings – healing jewellery
There are four main designs in both silver and gold dip and there are three general sizes. All sizes are in cm. The length 'L' is from the top of the crystal to the point and the width 'W' is across the widest part of the crystal
Large = L 7.5 cm W 2cm Medium = L 5.5 cm W 1.5cm and Small = L 4.5 -3.5 cm W 1.5 -1.1 cm
There is one extra design in silver which uses sliver wire to wrap the stone – often a favourite of people who facilitate energy work.
The earrings are kept simply to one design in both silver and gold dip and all are small in size = L 3.5cm W 1.1cm
The shape of the Selenite Pendant is threefold.
Firstly it is a symbol of an empty a vessel. A vessel is filled from the top and as it is filled, gravity draws it towards the earth as grounded white light.
Secondly, Selenite cuts through the fog of confusion, so the form is also the sword of clarity.
Finally, the form is also like a fish. Fish move like light through water, miraculous beings breathing air underwater. It is a reminder that we too come from the sea. We are the aquatic ape. Selenite is formed from Calcium Sulphate and Water – CaSo4 +2H2O
Each piece is unique and it is best to pick the one that resonates with you.
They have all been activated on healing magnetic earth, and are carved in Tampak Siring, close to the sacred water purifying temples of Bali. They are finished by jewellers from across the Indonesian archipelago, using recycled silver, which is also the base for the gold dip pieces.
Selenite is a very powerful crystal, yet it can be fragile. Clean it by smudging it with smoke or use sound from a singing bowl. If you drop it, it will most likely break, just like us, so handle it with care, just like you would a very precious being. It best kept away from salt or fresh water, chemical and cosmetic products.
This is my absolute most favourite piece I got from Nicky. The first time I saw it & held it I felt a soothing calm sensation within my hands. I wear it daily as the design compliments most things I wear and I love the simplicity of it. At times in the day I hold it to calm and soothe the energies of my daily life. I sit with this crystal in my meditation too and it brings about a deep sense of peace and tranquillity helping me better deal with everyday situations and decisions.
I received so many compliments from people and also bought them for my parents who love wearing them daily. I look forward to getting the earrings soon as I know they are to be released soon"
How lucky that your crystal bring my life balance back!
For a few days I suffered from some work issues and my emotions were totally flat like a dead lake. Even though I am a Chinese medicine practitioner, I am still human and I can't help myself while my positive qi is very low. TCM believes humans are sick because bad energy affects us from the universe, and inner emotions make us lose our balance when our body is controlled by negative energy and we also get sick! TCM also says, if our body is full of positive energy we will never get sick from bad universal qi and inner emotional imbalance!
I practiced TCM since 1992 and for the first time I felt immediately, my positive qi increased a lot when I wear your crystal! Amazing qi transfer to me from that healing stone, and now I am so peaceful and strong because I wear it every day.
The earrings are kept simply to one design in both silver and gold dip and all are small in size = L 3.5cm W 1.1cm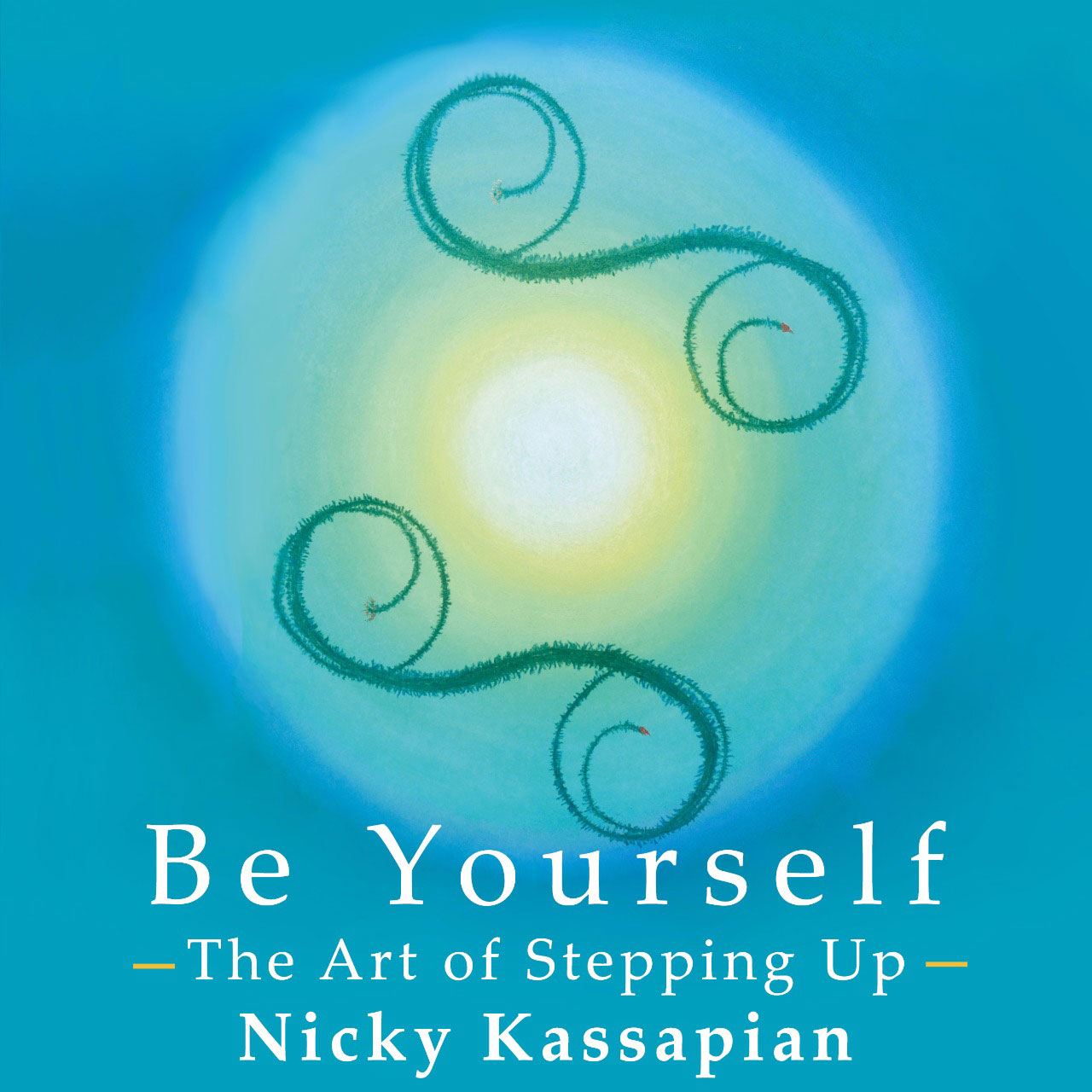 In Be Yourself-The Art of Stepping Up- Nicky Kassapian has provided a clear map for navigating your inner world. She does this through the insights gleaned as an energy worker and master of self reflection. Nicky shines the light upon all the dark places and in doing so she illuminates the options – the path of fear or the path of love. Her close attention to the unfolding spiral of life, invites you into an intimate and gentle dance with all that you are: living beauty. "
What travel destination could be more exciting to discover than that to Be Yourself?! A wonderful guide book to bring along on ones most important journey in life